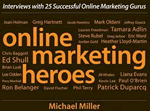 Wiley, a publishing house, recently announced the launch of a new book, "Online Marketing Heroes: Interviews with 25 Successful Online Marketing Gurus", in which TopRank has an entire chapter on the subject of social media marketing for SEO and PR.
The list of Internet marketing experts interviewed for the book include consultants, agencies, CEOs, PR professionals, client side bloggers and marketers. Topics range from paid search to online copywriting to online PR and social media marketing.
Read the full article at the TopRank Online Marketing Blog.